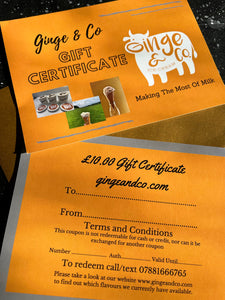 Gift Cards with silver envelopes
Each gift card is worth £10.00
Birthday present for a friend
I got some gift cards for a friend and being my usual disorganised self I left my preset buying to the last possible minute.
Alan really saved the day and brought them around for me in person so I could give them to my friend in time.
On top of all that the ice cream is excellent and my friend was over the moon with their present.
I cannot recommend Ginge and Co highly enough.