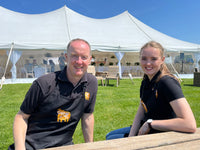 Ginge & Co
Father & daughter company making homemade small batch Ice cream in New Mills, Derbyshire. 
Why Ginge & Co? Named after the once red-haired Alan (aka Ginge) and Emily. Established in 2018, they pride themselves in 'making the most of milk' using locally sourced produce wherever possible to make homemade ice cream where each mouthful tastes delicious. 
About Us "
Where It All Started!
Emily spent the summer of 2017 on the farm just up the road, milking cows and loved it. Together they realised that the very tasty milk and cream that the 'girls' produced would make gorgeous ice cream.
Shop Now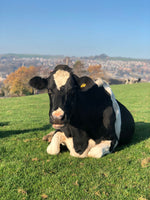 Our First Trip Out
We sold our first Ice Cream on the 1st December 2018 on an outdoor stall, at New Mills Christmas lights switch on. Not knowing if we would sell even one ice cream on a chilly night in December, we were astounded with the amount of interest and good wishes and the ice cream almost sold out!
The Support from the local area has been amazing, from our lovely customer to the fantastic buisness who support each other all the way. 
what people have said about us
Ordered 3 different tubs of ice cream at 10.30 am Saturday. Alan delivered about 1.30pm same day. Fantastic service. Beats amazon prime ! Ice cream is fabulous! Sampled the chocolate brownie so far. Will definitely be back for more! 

Alexandra
Ice cream is as good as you're likely to find. Easy to order and a really great personal service. Can't recommend it enough.

Stuart
Gorgeous ice-cream from a local, family business. Lovely people and a fabulous delivery service.  We ADORE the Madagascan Vanilla but love trying out all the other flavours too. Higly recommended..!,

Jacqueline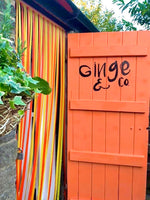 The 'Shed'
Why the "Shed" I hear you ask? Well all our ice cream is made in the stone shed at the bottom of our garden, this means 0 petrol miles used for Alan to get to get to work.

March to May 2019 was spent converting our stone bike shed into our creamery where we make all our ice cream. We knocked two rooms together, moved all the flooring and removed the roof then spent a lot of time rebuilding it. From the outside with the exception of 2 roof windows the shed doesn't look any different, but the inside is clean, fresh and bright and quite often chilly.
You can hear the hum of the ice cream machines and contented humans as they try our tasty Ice Cream.

'Making The Most of Milk'
See Our Menu